Uploader Guide
This admin guide is intended as a reference tool for those users who are responsible for uploading content to the archive. Users with access to these pages will have already received training (or who are in the process of receiving it), so this will act as a means of refreshing existing knowledge rather than teaching new concepts.
Uploading media
It is important that the file you upload is of the same quality as that which was broadcast. The system is capable of ingesting many different formats so there should not be any need to convert a file before uploading it.
To upload a file, select "Create record" in the menu at the top of the webpage.

Video Guide
The following video demonstrates how to upload a record and how to edit it afterwards:
Text Guide
STEP ONE: Metadata
A dialogue box will appear on the screen inviting you to enter the metadata for the record. This is the most important step, and the one that makes the archive useable.
The box that will appear is annotated below: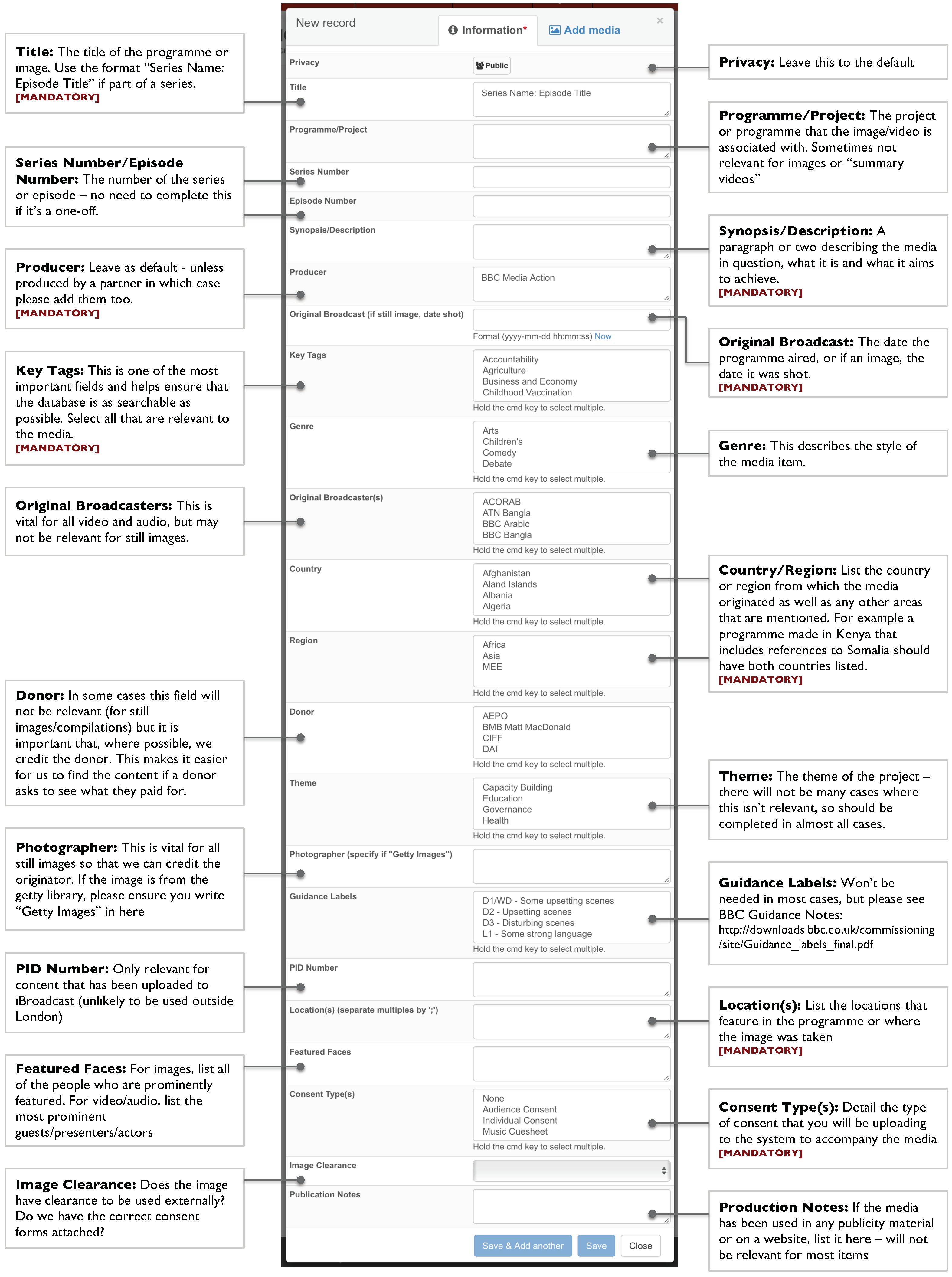 Ensure that you complete as much of it as possible, because if you don't, the file could be rejected and deleted.
STEP TWO: Media
To upload the media file select the "Add Media" tab at the top of the dialogue box and the following will appear: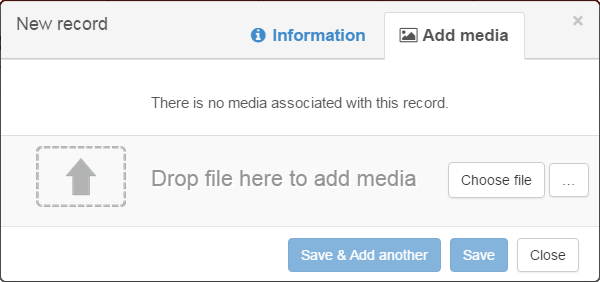 Once her you have two options:
Upload from file - to upload a file that's currently in a folder on your computer, just select "choose file" and locate the item in the directory.
Upload from dropbox - to upload a file that is stored in a dropbox folder select "..." and then "dropbox"
Once you have uploaded the item, just hit "Save" and the processing will begin.
If you have chosen to upload from a file you will have to leave the page open until the file has finished uploading.
Using dropbox is useful if your connection is slow as this will allow you to upload to drop box in advance (perhaps the night before) and then simply select the files here - this way you don't have to wait for them to upload as they are already stored in the cloud.
STEP THREE: Uploading Multiple Media Items
In some cases there are multiple files that form part of the same programme (for example a one hour radio show may have three seperate audio files to allow for ad breaks).
In these cases, it is possible to upload all three at once. To do this, just select multiple media items (or drag and drop thewm all at the same time). When you do this you'll see the following:

If both of the records are for the same programme, just click the option that says "Create a single record containing multiple media objects".